Itahari : With the inauguration of first glass sky bridge on Friday at Suryodaya Rural Municipality-7 Kanyam, Ilam has become the first district to host such skywalk soft adventure product in the Province 1.

Constructed by Kanyam Kloud Private Limited, the approximately 60-feet tall bridge has all-women investors. Twelve women investors from Wonders Nepal, which has been constructing various tourism products all around the country, have teamed up to make this pioneering tourism project along the bank of Mechi highway.
According to the director of the project Rita Acharya, who had chaired the inauguration ceremony Friday, the entire infrastructures packages including swing, hotels and other activities are estimated to reach Rs. 50 million.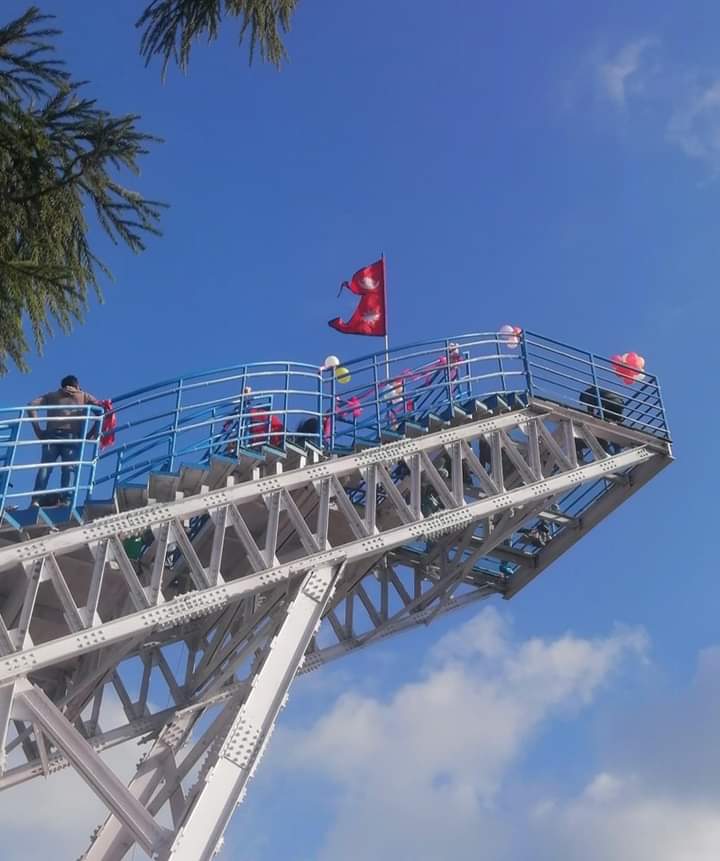 The inauguration ceremony was held in presence of Mayor of Suryodaya Rural Municipality, Rana Bahadur Rai, actor Barsha Raut, Singer Alina Chauhan and many tourism figures from Province 1

Visitors have to walk on the glass on the topmost section of the 3-section bridge eyeing the views of both Nepal and bordering Indian towns of Darjeeling as well as scenes from Himalayas to plain Terai.

Ilam green-carpeted tea garden is additional and constant attraction for the viewers. 4-meter wide and 7-meter length glass bridge on the top gives thrilling experience, said Basudev Baral, a tourism entrepreneur from Dharan who was in the inauguration ceremony. ''For adventure lovers visiting Ilam, this will be an instant attraction'', remarked Baral after making his footfall at the newly constructed bridge. He said the project is the beautiful example of women-led tourism investment.

For visitors, domestic tourists have to pay Rs. 500 to enjoy the facility. For visitors from SAARC nationals and foreigners, the cost is Rs. 800 and Rs. 2000 respectively. On the formal inaugural day, however, entry fee was priced at Rs 300. (RSS)